Spanish Classes and Private Lessons in Los Angeles!
Experience the best Spanish Classes in Los Angeles! Immerse yourself into a new concept of learning Spanish fast and effectively! We integrate the best teaching techniques and methodologies to help you learn faster, and retain longer in our Spanish classes, through our very own innovative method to learning languages
Spanish tutor Skype|Spanish Online|Spanish Instruction Skype
LAS Blog | @SpanishTutorLA | YouTubeChannel | Facebook | Pinterest | LinkedIn |Google+

SPANISH CLASSES, IMMERSION FOR BEGINNER, INTERMEDIATE, ADVANCED  LEVELS
HIKE & LUNCH + SPANISH CONVERSATION!!! – Stay tuned!
   Join our Spanish Classes next week!
          Beginner to Intermediate
          Intermediate to Advanced
Duration: 8 weeks
www.laspanish.com|Learn Spanish Fast|Spanish Classes Los Angeles|Private Spanish Instruction
BEST SPANISH CLASSES IN LOS ANGELES
1. SPANISH CLASSES

 
     A. Spanish classes – Conversation by Immersion® "IN PERSON"
     B. Spanish Classes – Conversation by Immersion®  "VIA SKYPE"
2. PRIVATE INSTRUCTION ONE-ON-ONE 
You will get the best Spanish lesson.
A. In Person
B. SKYPE-ME
Read more on linkedIn
Let us help you improve your grades and score an "A" in your Spanish classes. We will help you understand grammar, vocabulary, do your homework, projects and develop your presentation for your Spanish classes. If you need to get ready for your next quiz, test or final in your Spanish classes, let us know. We will be happy to help you!
Spanish  I – II – III – IV

Spanish Honors


AP Spanish
Call Ms. Miranda at (310) 403-3001.
4. COLLEGE STUDENTS
BEST SPANISH CLASSES AND SPANISH TUTOR IN LOS ANGELES
Call Dalila @ (310) 403 – 3001
dalila@laspanish.com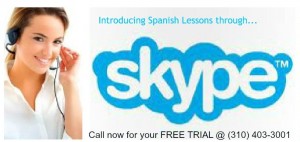 www.laspanish|Learn Spanish Fast|Spanish Classes Los Angeles|Private Spanish Instruction
~ • ~
OUR FOUNDER: Ms. Dalila Miranda
Ms. Miranda is proud of each student's  achievement.  She is a passionate teacher who cares about the process and the results of each of her students with dedication.
"My goal is helping you to become fluent in Spanish language! With my guidance, you will strat using it properly in any social situation, and integrating it into your field of business", she says.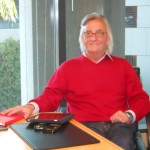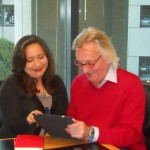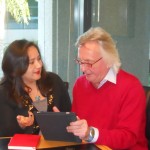 In the video [right], Ian, a beginner student at that time, is holding a conversation after a month of daily lessons.
Ms. Miranda's expertise allows her to learn about your needs and learning style initially, and she will address the right program for you according to your goals!
Practicing the right way with Ms. Miranda's guidance will help you to improve your communicative skills and become fluent in Spanish.
Her Spanish programs and schedule are designed taking into consideration each student needs and lifestyle.
About Ms. Miranda's students
Her exclusive group of students includes business men and women who handle business with Spanish speakers in the US or who travel frequently to Spanish-speaking countries. Among them, you can find actors/actresses seeking help with their Spanish speaking roles, or laid back professionals who love to travel to Spain, Central, or South America. On the other hand, she teaches Spanish to visitors who wish to boost their Spanish while visiting Los Angeles, as well as Spanish culture lovers who want to communicate in the second most spoken foreign language in the US. -Ms. Miranda also loves her professional students from all fields such as doctors, chief executive managers, entertainment professionals, filmmakers, nurses, health practitioners, family therapists, legal professionals, finance professionals, attorneys and more.
Ms. Miranda also provides Spanish instruction services to Institutions that need to train their staff in Spanish for specific purposes in their respective business areas.
Handling academic challenges
High school students, undergraduate and graduate students from major schools, constantly request Ms. Miranda's help with the Spanish language. They know she is the best explaining the most difficult cases, and she can prepare them well for those challenging tests! Each of her students knows how valuable is each session with Ms. Miranda.
Ms. Miranda will help you learn Spanish FAST AND EFFICIENTLY!!!
Become Fluent in Spanish with LA Spanish!
Learn proper and well educated Spanish at LA SPANISH!
The benefits of Ms. Miranda's methodology
Learning with Ms. Miranda means learning proper and well educated Spanish from a professional native Spanish teacher.
At LA Spanish, our students get the maximum practice in each Spanish class. They gain confidence and show mastering of the Spanish language sooner than with other programs available.
Like former students, you can also learn Spanish and Speak Spanish in record time, as a result of Ms. Miranda's methodology.
Get ready for that trip,  in social gatherings, or communicate with your employees and clients at work!
Our Spanish classes & lessons in Los Angeles are available in all the Los Angeles greater area, whether you are looking for Private Spanish Instruction with a professional Spanish teacher, if you prefer Spanish classes, or if you just need a Spanish tutor for a high school student.
Private Spanish Lessons are also available for high school, college and graduate students from all major institutions. Our Spanish classes are also a great opportunity to gain confidence in the language.
Over 15 years of professional experience!
" At LA Spanish, building confidence counts…..and we love to see your smile "
We make sure that you build not only knowledge but also confidence since day one! This will help you to produce your thoughts more spontaneously and with the confidence that you know what you are saying, and proud to be saying it the right way!
Contact Ms. Dalila Miranda
Email: dalila@laspanish.com
Phone: (310) 403-3001
Please, Include your name and number. We can set up an initial meeting at your convenience. This meeting can be in-person, on the phone, or online, to discuss your needs and goals in Spanish language.
24 hrs cancellation applies!
Recording and Broadcasting Policies