We all love to say Palabras de Amor-Love Words to our love. So, I have prepared a list of useful words that you can use with that special person.
Palabras de amor-Love words
It is always a good time to say these Palabras de Amor – Love words. Find any excuse to say them for no reason, just to infuse happiness into your relationship.
Below this list of expressions, you will find a list of ideas to keep pampering that special person.
List of Palabras De Amor-Love Words
-Me gusta tu sonrisa.

-Me gusta estar contigo.

-Me gustas mucho.

-Me encantan nuestras conversaciones.

-Eres lo mejor que me ha pasado en la vida.

-Me gusta mirarme en tus ojos

-¡Te amo!

-I like your smile.

-I love to spend time with you.

-I like you so much.

-I love our conversations.

-You are the best thing that ever happened to me.

-I like to see myself reflected in your eyes.

-I love you!
Don't forget to pamper your love with:
Flores

Chocolates

Una cena romántica

Besos

Abrazos

Coqueteos

Miradas a los ojos

Silencio significativo

Tu presencia

Tu amabilidad

Tu respeto

Tu entendimiento

Tu tiempo

Tu deseo de hacerla/lo feliz

Comunicación sincera

Tu mismo/a

Flowers

Chocolates

A romantic dinner

Kisses

Hugs

Flirts

Looking into his/her eyes

Meaningful silence

Your presence

Your kindness

Your respect

Your understanding

Your time

Your desire to make him/her happy

Sincere communication

Yourself
Being fully present is the best gift you can give to your love!
Lista de Palabras De Amor-Love Words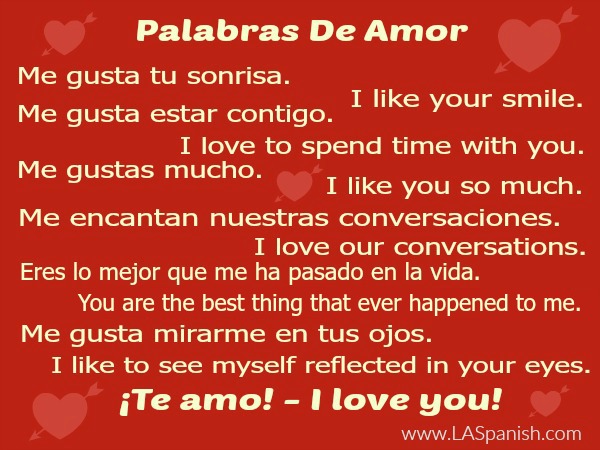 A LOVE STORY TO SHARE WITH YOU
Last weekend I met an inspiring couple that were celebrating their 60th wedding anniversary. She said the main reason they were together, it was that her husband believed in marriage. He said SHE was the main reason they were together all of these years, and start talking about all her achievements in life, as a person, and as a professional, which showed how mesmerized he was with her and how much he admires and respects her. But I loved when he started his talk saying: First of all, to be married for 60 years, you need to be alive for such a long time! J
Do you have a love story you want to share with us?
We want to hear from you!
If you wish to learn more Palabras de Amor – Love words, use the comment box to send me the words or expressions you would like me to translate for you.
Learn Spanish fast @ www.LASpanish.com  (310) 403-3001
Visit our Website      Like us on Facebook      @SpanishTutorLA      Pinterest